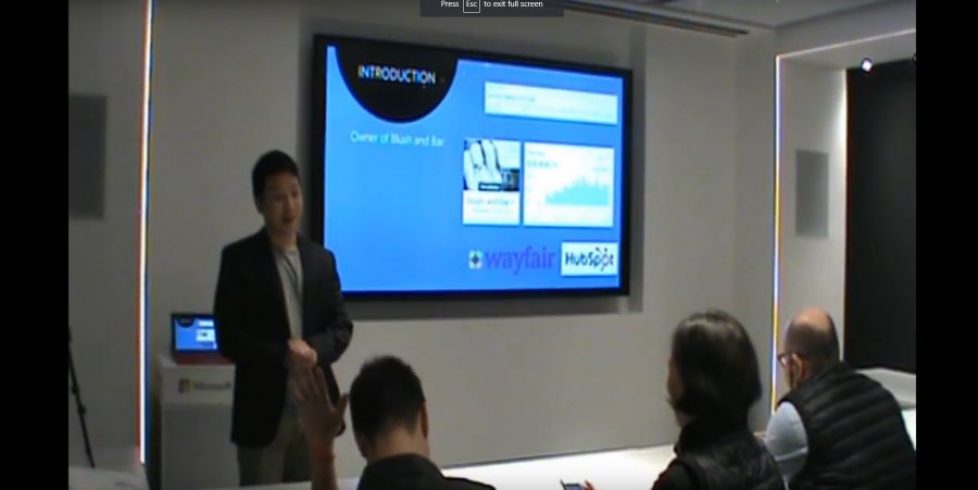 My name is John and I run Lush and Bar, a six-figure soon-to-be seven-figure income e-commerce — company. Well first of all, happy Valentine's Day everyone. I appreciate that you guys are here, you guys could be anywhere. You should be on a date…you guys are on a date at this presentation for me. I brought free gifts for everyone, so come get some. I want you guys interrupt me with any questions you have during the presentation. I want it to be interactive because I've been coming to these events for a couple months now and every time I sit in your shoes I'm thinking, like, you know, I don't really care about what the person is talking about, I kind of want to just interact and have my questions answered. So, I got you.
My name is John. So, let's get started. a little bit about me again, I run Lush and Bar, an e-commerce — company. I was formerly part of Dominate Web Media, where they were an agency handling Facebook ads management handling about to 2.8 million and monthly ads spent for a bunch of different commerce brands. Prior to that, I was a hedge fund analyst covering Wayfair, which is this giant furniture retailer, and HubSpot software, which is a service company. So, today we're going to go over what I think makes a winning campaign because that's what everyone's interested in right? We're looking to advertise on Facebook. We want to find out what a winning campaign is. And then we're going to do an interactive exercise and then we're going to do a lot of Q&A; because I know everyone probably has a lot of questions.
So, let me let me get to know the audience a little bit. Has anyone been in e-commerce for more than five years? One, two…So a very small percentage. I think it's important to know the history of e-commerce and know a little bit about what has been working at what would used to work. So, before e-commerce was heavily query-based, it's still kind of like that a little bit but, it's more logical right. So, people would do a lot of SEO. All you have to do is put up a product and some keywords and rank very highly and then people would find you and then you could make money that way. The problem is now, Amazon is basically the largest search engine for people who are hungry to buy stuff. So, they're not going to be … it's very hard for you to win that game. If you have a very logical type product, some refrigerators, good luck. it's very tough. So, this is what I think where the future of advertising is going to be is interruption marketing; you need to make some sort of emotional connection with the customer. It needs to be kind of story-based. And the thing about Facebook and Instagram is that it's kind of like a party. No one's really looking for your product on Facebook and Instagram. No one's even aware of what's going on. They're looking at their friends, they're looking at cat videos, they're looking at you know people that they want aspire to be like. So, if there's any secret to Facebook, it's not going to be the targeting or the bidding. It's going to be and the messaging. This is what we worked on heavily at Dominate Web Media. It's an old thing called "upside" and basically, it's based on one of these old books called Breakthrough Advertising. It's one of those books from the 1920s, Eugene Schwartz, and basically the biggest mistake that people make when they advertise on Facebook is that they treat it like it's Google. They treat it as if people are looking for you – they're not. they're looking for whatever. So, the thing is they created a product and they'll say something like "Come get it now" or "This product is awesome", or "20% off". Right? So, what you're doing there is you're actually marketing to the 1% of an audience that is deal-aware and ready for your product or service or whatever it is. The vast majority of that audience are not only unaware of your products, they're unaware that they have a problem. So, your product or your service is a solution to some sort of problem that the customer is happy. Whether it's stress relief, or whatever. Your product is the solution some sort of problem and it's with that messaging that you're going to be able to win on Facebook. You're going to have to take people down this awareness ladder and you cannot hit people with a deal-aware or solution-aware type thing if they don't even know what the problem is.
To illustrate this point, let me just go over three brands and let's go over the kind of the messaging that they have. Any questions so far?
[Audience question]
Well yeah, that's one part of it. But also, if you think of our kind of query-based traffic, think about that upside awareness ladder. If they're searching for you, it means they're aware that they have some sort of problem. It means they're aware that there's a solution. It means they're aware that you're probably the solution. So, they're pretty high down that intent ladder. The way to win with Facebook is to bring people down that journey. Whether it's through your ad, your landing page, some sort of video ad…
[Audience comment]
Right, exactly. So, they're probably shopping, looking for some sort of value, price, or whatever. We can start with this. Okay, I'm going to show you three brands of acne care or skincare and we're going to try to just go over the messaging. So, for example, this is Neutrogena. everyone knows Neutrogena. It's $5.69, one-time purchase. And let's just look at the kind of messaging. It's pretty logical, it probably goes over the ingredients that it has. It's on Amazon so it shows product dimension. This is logical type query-based e-commerce. And I think that it's very hard to win in this game, especially because Amazon – this is pretty much their game.
[Audience question]
Right, well, let's go over like this. So, the way you get to this page on Amazon is you search for acne face wash. And then you go to the category page and click here. So, there's no story. You know what you want and you're going to have this, you search for it.
[Audience comment]
So, the second page was an article for Proactive and basically it was called, they call it a dipsy-doodle page. It's this kind of story from someone who tries to share an experience, like "Oh I had this experience with blackheads…" and it's this long written article and at the end of it the solution was, guess what, Proactive. And it leads to a product page, like you said, but the way they got there was through this awareness channel of reading this article and it's kind of fake but it's kind of not.
So, this is a skincare brand run by my friend Daisy. She has a two and a half million-dollar business. Its e-com. And I just want you to go over it and kind of look at the messaging. And then we'll go over and talk about it. so here we go. She brings awareness to some sort of problem. Chinese pizza face…you know, it's a pretty big problem. And then she has a video growing up ugly – whatever it is. There we go. It's very authentic, it's a real story. So, this is where I think the future of e-commerce is going to be and this is how I like to run a lot of my Facebook campaigns. And this is what I found works on Facebook. Maybe you can't sell acne because you can't really call out specific problems on Facebook. You can't say like, "Are you overweight?" or something. But this is just – look at the messaging and keep this in mind when you're, I guess, positioning your product that's a solution. So here; she positions a problem. She brings awareness to some sort of problem; alludes to some sort of solution and guess what? The solution is her products. So, the skincare routine, her solution. And so that's what I think. That's what I found works on Facebook, is a lot of this bringing awareness of some sort of problem. It's alluding to some sort of solution to that problem.
[Audience question]
Right, I hear what you're saying. You're saying it's like impulse purchases, like for these kind of new e-commerce products that it's very hard to find some sort of solution, right?
[Audience comment]
Sure. So, the jewelry we sell. So, the problem that people have, or that we have found that women have, is that once women hit a certain age, and this is just me saying stuff, that they find that they aren't really interested in the Claire's or the costume type jewelry. It's fragile, it's it breaks easily, it doesn't last very long. And then fine jewelry is kind of a little bit too expensive. You don't wear it very often you only wear it for special occasions. So, there's like a middle ground and that's what we found as our messaging. But it's going to be different for any type of products. And that is the hard part. No amount of ninja targeting on Facebook or look-alike audiences or some sort of really good image is going to save you if your messaging is not correct.
[Audience question]
Yeah, it's tough. I mean, the way we test – we'll test different creatives for a lot of different images or videos or whatever and different copy. So, we'll test a ton of copy and the difference between good copy that resonates and bad copy that's just kind of like, great value, low price or whatever, it's significant. So, a good image or a good video versus, you know, a badly done one. What the difference for us… just talking about click-through rates, probably a bad one would be like 1% click-through rate or half a percent click-through rate. Good ones will see like 6%click-through rate. So, the difference is huge. It's worth it because if you're going to pay for amplification, if you're going to pay for traffic, you're going to be paying a lot for it so it's worth it to test different hooks, different offers, different messages.
[Audience question]
Yeah. So, the way I like to test for creative for copy is to run maybe one campaign, five or ten different ad sets, all at a very small budget, and all at the same time, targeting the same audience and just changing up one variable, probably the image. The image matters more. So, let me talk about what matters the most in order of importance. You don't want to be testing copy if your image isn't correct. The most important thing is going to be your offer; your offer, your message. That's the most important thing. Then it's going to be like your image or creative, then it's going to be the copy, and then like adding emojis. Let's do an interactive exercise. Any more questions?
[Audience question]
Yeah, I mean you can test by both ways. I found that the more like authentic it is, the better. We've tested a lot of creative and oh my god, we've gotten creative from like… we would pay a Fiver to do a product demo and we just got one back yesterday and I just couldn't even use it. I didn't even want to use it. She was like "Oh my god, this jewelry is great. I got it for my daughter". Like, I'm not using that. That's not authentic, that's not real. Like people on Facebook are not stupid.
So, we talked a little bit about the creative, about the messaging. I want to go over the actual kind of quantitative stuff and don't be scared it's not that hard. So, getting a working funnel on Facebook, not funnel, but like where you can pay for traffic and it converts a certain percentage of those people are add to cart, a certain percentage of those people are going to initiate a check out, a certain percentage of those people are going to make a purchase. And having that funnel be profitable is like eating an elephant. It's just a pretty large task. The only way I have found to really break down that process is to do it one step at a time. I need a volunteer who has, like someone here who has a store?
[Audience comment]
Cool, clothing for kids. Alright, so we're going to go over all these metrics. Do you have any idea of your average order value? Like what your average basket size would be? $20, $30. Let me just go over the metrics real quick. So, CPM is how much it costs to get your message in front of a thousand impressions, like who sees it. And then of those thousand people, there's going to be a certain percentage that click on them.
Okay, so CPM, people who see it. A certain percent of people who are going to click to your actual page. That's the click through rate. Through that you get a percent of the cost per plate. So, whatever it is, fifty cents, a dollar. Generally, for B to C type companies, I'm targeting anywhere between a 20 cent to dollar cost-per-click. And reconversion rate is of the people who actually get to the page, how many purchased your product? So that gets you to a CPA, and if a CPA is below your margin, whatever you make is the profit. We could go over it in more detail but this is kind of like the high-level stuff. And you want to be mindful of these metrics. You want to keep it tight. It's about the messaging but it's also about the numbers. You need to have both. You can't be just good with the messaging and just hope the numbers work out. You have to use the numbers to kind of tell a story with your own businesses, if that make sense.
[Audience question]
Let's say it's like $20. Average undervalue. So, someone reportedly buys $20 worth of baby clothes. I guess that this conversion rate would be like a little, I guess a little bit higher, let's say it's like 3%. So, the ultimate goal is to get to a low as or return on an investment that you can sustain paying for more traffic. So, the way I think about it is traffic is actually kind of a commodity. You can go to the traffic store, you can go to Google, you can go to Facebook, and you can pay for the traffic. You're going to pay some price. There's ways to get it cheaper. If you have an engaging ad, you can get it cheaper. If you have good messaging or really great copy, you can get it cheaper. But it's the job of your business to be able to sustain that customer. So, if you're average order value is too low, maybe that's not going to work. Or if you don't have ways to turn that customer into a repeat customer. Or if there's upsells involved. There's a whole chain of different things. It's the job of the ad to get them to click to get to the page to incite some interest but it's really the job of your business, your landing page, your product page to get them to convert. And then your email, your follow-up, whatever you have in your store. Questions?
[Audience question]
Yeah, I haven't. Personally, I haven't done any messenger only, here you're talking about the ads that – on Facebook you can do ads that say what you like or if you're interested in X type something and then it goes through a whole sequence. I haven't really tested that out. The only extent that I've used Facebook Messenger is as abandoned cart messenger. It works. So basically, the biggest problem for e-commerce store owners is that 70% of people who add stuff to the cart are not going to complete a purchase. That's the biggest pain point that every e-commerce store owner has. So, on average it's about 70%. Is that right? Some sort it as a lot higher. I found very few that are actually lower. So, the key is how do you follow up with them? Whether it's Messenger, whether it's abandoned cart emails, whether it's some other sort of way to follow up with them. Because people are busy. It's not that they don't love you or they don't want to purchase your stuff, it's just that some might find the way. That's the biggest pain point and that's what we think the messenger is for, at least for now.
[Audience question]
You're talking about that actual ad inside the ad set? Yeah, I've heard people do that. I like to run one ad within an ad set. Facebook kind of just picks one, so it doesn't actually give you equal testing if you want to test the images. It's just a little technical thing.
So, in the beginning, what I like to measure, because it's so hard to get… Let's say you're selling like a hundred-dollar item, and you spend like fifty dollars. You don't know if that's a winning ad or a losing ad. You have to spend more to find that out. So, in the beginning, what I like to measure is engagement. Click through rate. How cheap your cost per click is, your relevant score. Because that's the only thing you can measure cheaply in the beginning. If you're going to sell a $200 item, then you know you might have to spend $500 or $700 per ad set to know if that little intuition is a winner or a loser.
[Audience question]
Yeah, definitely. Warm audiences do better than cold audiences, it's just more — which are a lot of smaller than —-. So, the key is to have a sustainable funnel with retargeting built in. But I would say that whole traffic, it's still the most important part because if you're just retargeting the warm stuff, it's kind of too small to really make a difference. You want to have an add, a system, that brings whole visitors that have never known your brand or your product or whatever, to convert them into sellers or to buyers, to repeat buyers, to people who actually talk about your brand and like it or whatever. So that's the main goal; to convert whole people would never have heard of your brand to a purchaser. And do that at a price that's not too expensive.
[Audience question]
It's a little widget that's in your product page. It says "send to messenger" and if they click "Add to Cart" it gives you permission to message them about their bank card. It's like a little widget like Shopify. Yeah, that's it for me. Any questions?
[Audience question]
Yeah, so let me talk about this. So, Facebook. I'm sure a lot of people with this would know or heard stories about people getting rich through Facebook or spending a lot of money on Facebook. Right? Facebook ad costs are rising and it's because it works. If you do it right, it works. So, I think you're talking about the algorithm update where they're kind of disincentivizing paid stuff. And they're also doing another thing where they're disincentivizing organic content as well. Facebook ad costs are just going to continue to go up. If you're going to do Facebook advertising, my advice is you have to come correct, come with a budget, be ready to lose some money before you make money. It's not one of these things where… If you feel like you're the guy at the poker table and kind of hope to get lucky with Facebook Ads, it's not going to happen. When you first started, you could do that but, you know people have figured it out, so it's not easy, that's for sure.
[Audience question]
For us, we get conversions from Instagram. Instagram is just a placement within Facebook, by the way. So, if you're going to advertise, you can basically – if you have an image or a video, it's just a placement. So, we get conversions from Instagram and from Facebook. The instagrams are more effective, sometimes it's more effective, depends on if your audience is on Instagram. Placement meaning, let's say you're running a video or an image, you can choose whether it shows up in the news feed or the Instagram feed. Facebook owns Instagram so it's just a different place they can put it. And usually you just let Facebook choose where to put it and Facebook has the machine learning to hopefully find the best audience for you, or so they say. I mean, if I were to wrap it up with one thing, I would say think about Facebook like… Facebook cares about three things. First, they care about their user experience. r They're actually care about their users. Secondly, they care about making money off of you. If you're an advertiser, they care about that. And then third, lastly, they care about you getting return. It's actually very low on their list of what they care about. You have to kind of understand the incentive structure and what's going on there.
[Audience question]
I would say it depends on, like let's say, what are you selling? So, what's your average order value? Okay $20. So, her ad set, I would say to know if it works or not, if it's worth continuing – and this is also a little lost – if you spend small budgets, you might be able to get away with it. The way Facebook works is they actually send you the best conversions first. Let's say you spend $5.00 a day and you get a conversion. and "oh my god this is amazing I'm just going to spend $5,000 to get the same return on ad spending" right? I've had ad sets where I get 90 X return on your ad spent. You spend $2 and someone buys something and you're like "I figured it out, like Facebook I got it". But what Facebook does is in an audience, let's say out of a million, it finds the best converters first; the ones most likely convert and gives that to you first of your first 5, 10, whatever dollars. And as you scale your budget, it becomes harder and harder for them to find people who are more likely to convert. If that make sense. Because it's just more people. It's more people in the audience. There's a certain percentage of people that if you put an ad in front of them, they're going to buy anything. Facebook knows who those people are, by the way.
[Audience question]
Yeah, I'd say for the basic courses, you can take like those — type of courses. For just an understanding of how everything works. Facebook Blueprint. That would give you a technical understanding of what's going on. The messaging and the marketing stuff – that's really you know tough work and it's not easy to do that type of stuff. I mean, all the people that I found who were really good at it – there's a couple guys that I guess teach but their courses are expensive as well. So, I mean, what we basically did was we committed to spending on Facebook. And when you start on Facebook, it's better to commit to spending consistently rather than spend, you know, 200 dollars a day for a few days and it's not working, I'm shutting off, what's next… Spend consistently. Know that you're probably going to get a subpar alas. Know that you're going to lose money and then like this thing, breakdown where in your funnel things are going wrong. If you have a low click-through rate, your ad's not engaging. If you have a low conversion rate, your product page sucks. If too many people are adding to cart but not initiating check out, maybe your cart needs more trust seals. Write down each step of the way and then eat the elephant one bite at a time and commit to optimizing that whole process. Because to just do it, to just to hope to jump in and say "I got a working funnel" or "I put in a dollar and three comes out", it's very difficult. You can do it if you have some viral video or some sort of really neat product or messaging, but I found that most people who have a working funnel eat the elephant one bite at a time.
[Audience question]
I just scale the winner. There are different ways to scale budgets but I think, I mean, the most important thing is getting that working funnel. And then scaling it. There are different ways you can do the ad set to get up the budget. There's tons of different ways to do it. But it's going to get harder and harder. Another way to scale it is to maybe try a different way of messaging. Because that's the thing has the most impact. For example, if our messaging is jewelry that's in between fine and costume, then maybe trying a different message… I don't know but that's what's going to make the most impact.
[Audience question]
Like sales? Yeah, sales work. But at the end of the day, you guys are business owners, right? So, if you take 20% off your product price, it actually hurts your average order value. And if you guys it's play around with this I know you'll see that the biggest leverage are conversion and an average order value. The traffic is traffic. You can get it cheaper, you can get it more expensive. But conversion is really where the pay lever is and I guess having the sale will increase conversions but it lowers your average order. You will make more sales, but it's at a lower price but at the end of the day…
[Audience question]
Okay so you're using a sale as an incentive. I have found – we've tried certain lower dollar value strategies and I have found that you attract people who are… yeah so, it's really hard to convert someone who bought like a $50 item and upsell to $5000. It's just different markets.
[Audience question]
So, we actually bought the company from firefighters.
[Audience question]
So, let me talk about this because I think a lot of people in the room think there's some secret combination of audience who likes jewelry, over forty-five, has a kid and wears blue sweaters. The truth is these interest groups; everyone on Facebook has access to those interest groups. So, the cost of reaching them is far more expensive than your look-alike audiences. If you have audiences of people who purchase from you, who viewed a percentage of your video, viewed your site. Look-alikes almost always perform better than interest targeting. You only want to go to interest targeting if you have a really killer offer and you did all the work with look-alikes and you want to scale it into different audiences. But you're going to pay a higher price because everyone in the world can pick "likes jewelry", "has purchased with active credit card", whatever it is. And those interests are really tough to work with. So, there is no secret combo of targeting.
[Audience question]
So, I would say, if you're just starting out, you'll get more traction from testing your message, your offer, your image, your creative than you will testing different images and thinking your product or your messaging is perfect as it is. And just saying oh it just needs to be the audience that's different. It's more likely that your offer is no good or your messaging is not great and then, or if it doesn't resonate with a certain audience it probably doesn't resonate with another audience. That's just what I found for myself. I tried testing different jewelry brands like Tiffany's, versus —, versus Etsy. It's pretty much the same. There are some that do a little bit better but it's not where the secret sauce is. The secret sauce is in the hard work in the messaging and positioning your product as a solution to some sort of problem.
[Audience question]
You're saying time of day? I would say, again, all that little stuff like time of day, like interest targeting, aren't that little stuff but it's stuff that's going to incrementally move your budget or move your CPA. It's not this stuff that basically is going to move you from zero point. Most store owners when they start out they don't have any sales and they're just trying to get from zero to one. Not from "I have a thirty-dollar CPA, how do I get a $28 CPA?" So, I would urge you guys, if you start on Facebook, try to get the message in correctly. Work on that. It's very tough because it feels like if you lose, you lose and then somehow you hit some sort of magical combination of messaging or landing page and it just works. It's very tough to make it incremental. We do, we tried that. There's one brand called Organify. They're an eight-figure brand. It's on Amazon. And they were one of the clients on Dominate Web Media. They're an eight-figure brand now and they're huge but they were two weeks away from bankruptcy. They were like we tried every hook and every messaging every offer and it just, you know, two more weeks and it's time to go. And then they hit this magical combination of messaging with a video ad to some sort of landing page. So Organify is this green powder drink. It's kind of expensive; it's like $70 per thing. The competitor sells it for $20. So, it's like a premium brand product. So, their whole thing was they created a video ad which the founder talked about the health benefits of juicing. Bringing awareness to some sort of problem like wanting to be healthy. Bringing awareness to the solution with juicing. But then they positioned themselves as: you can go to Whole Foods and you can buy all these vegetables for hundred something dollars, or you can buy Organify for less than two dollars a day. So, the messaging, the hook, the creative – that didn't come overnight. They had to like go through a lot of pain to get there. But once you hit the hook. I think that's my best, the final message is that's probably the most important thing. You can go anywhere; you can go to YouTube, you can go to other places and they'll teach you about the targeting and the time of day and bidding and all that stuff. But it's up to you guys as business owners to find that messaging.
[Audience question]
Yeah, influencers. We use them in the —. For influencer marketing, we did use influencer marketing in the beginning. When we started the brand, I didn't want to spend a lot of money so we went to influencer marketing. It was very scrappy. It's kind of embarrassing. Anyone who would like our post, we would DM them and say "come get 40% off". It's very scrappy and I think in the beginning you really have to do that type the stuff. You have to be selling your products almost all the time. It doesn't mean you're going to be like that forever, just the process of you getting those sales kind of changes your mindset to make you believe that you can do it. And then eventually you get there. So, we did do influencer marketing. Most influencers are probably not worth what you pay them. We only had one influencer that actually worked. We paid her $50 and she broke sales of $250.
[Audience question]
Yeah, I mean, we used a bidding link or something like that. we basically paid her $50, she posted about it and she had a really authentic following. So, she drove sales of $250. But doing influencer marketing is very hard to scale because you have to reach out to a bunch of influencers and then they have to get back to you about your product. Where I think you can win with influencer marketing is basically hope to break even on the actual shout outs and stuff. But get permission to use their content to amplify through Facebook Ads and that stuff. It's a cheaper way to create real effective media.
[Audience question]
You can target only in the United States. Generally, I like to target in the United States and the big four: Canada, United States, Australia, UK first. I know people who have had success like scaling worldwide into Germany or Thailand. The thing is it's going to be cheaper to reach those people but those people who probably are not going to be the type of audience who's keen to convert on you know the type of products that you guys are selling. It could work for some sort of impulse buy. I know this one guy, he sells apparel for teenage girls. Thirteen to seventeen and no one's really targeted that market. He targets worldwide and his cost per click is like penny clicks and it's just like crazy cheap in the traffic. But I think for most people it's safe to say like US, Canada is probably the better.