This is the presentation deck presented at the New York E-Commerce Meetup on November 8, 2017:
"2018's Digital Marketing Landscape Through The Lens of SEO"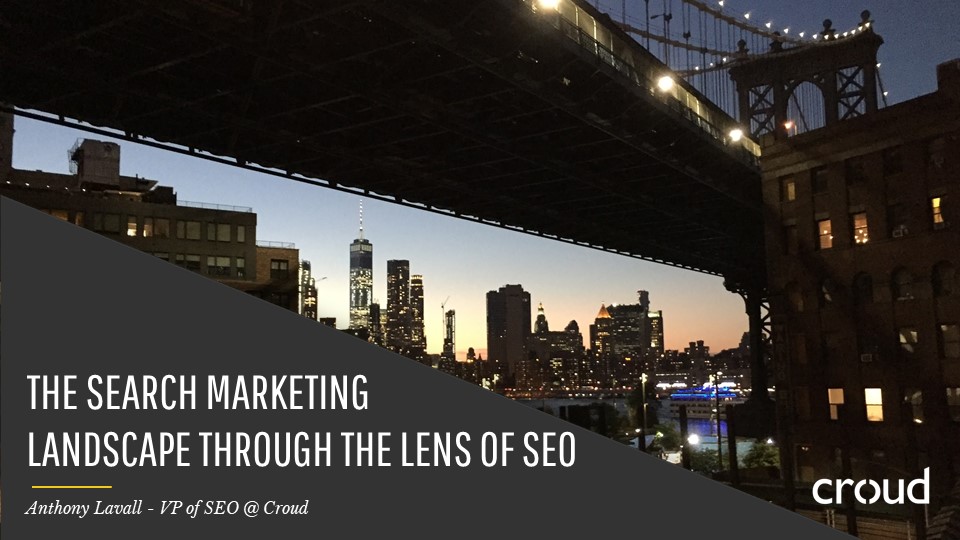 The Search Marketing Landscape through the Lens of SEO
Anthony Lavall – VP of SEO
WHO?
Name: Anthony Lavall
Role: VP of SEO
Company: Croud
From: U.K.
Lives in: New York
In SEO for: 6 Years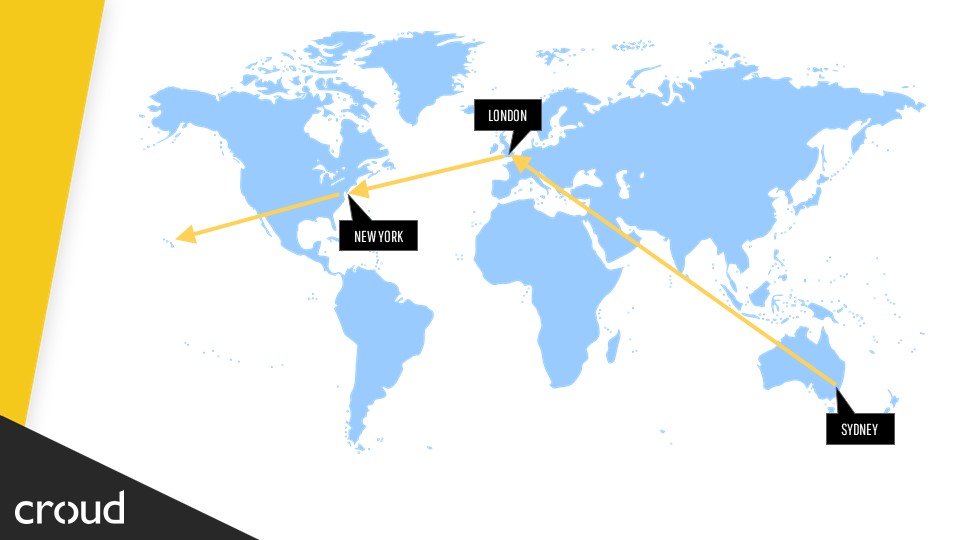 My Journey
New York from Sydney via London
Kick off Questions
By a show of hands, what types of marketers do we have in the room?
work at the agency side or as and independent consultant
work at the client side
work for a technology service provider
none of the above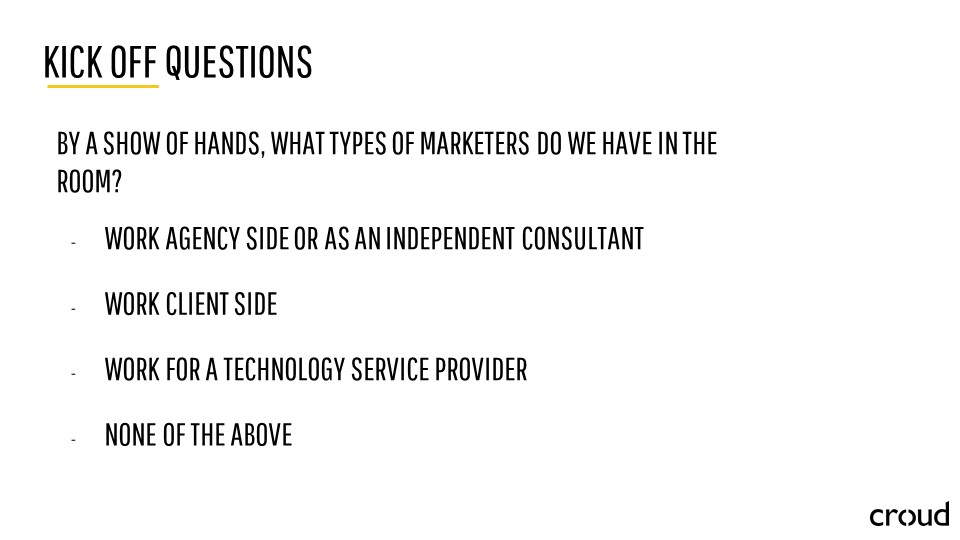 Kick off questions
How much SEO experience do you have?
loads
some
what the flip is SEO?
The Purpsoe of this talk…
To better understand the current state of the search marketing eco system
To understand what service a company should expect when working with an SEO agency
To understand the most important elements of an SEO campaign and how to address them strategically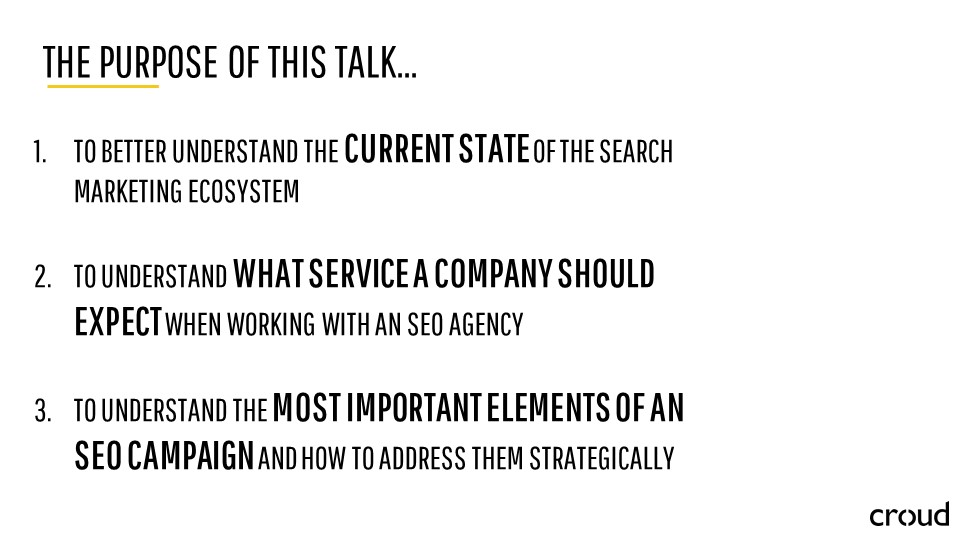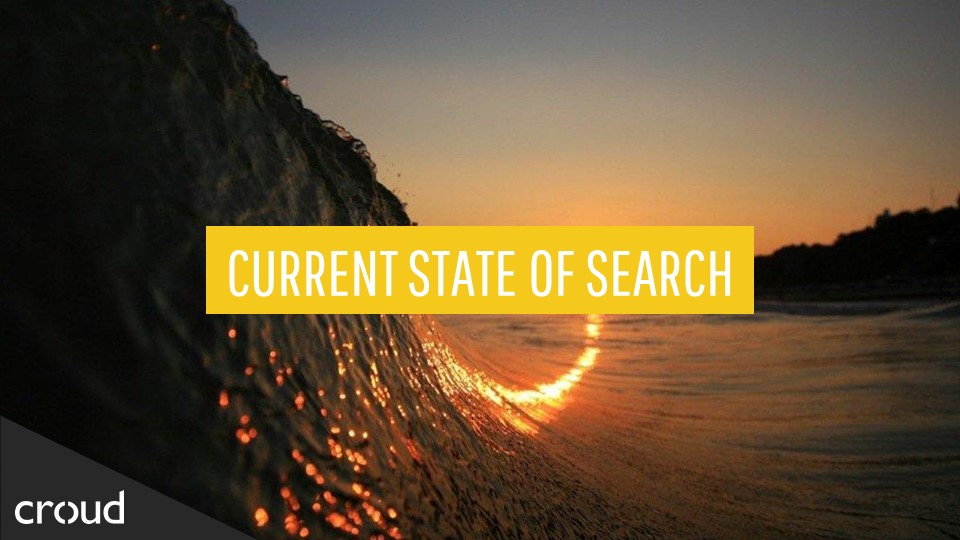 The Modern Google SERP – Desktop
4 PPC Ads are ubiquitous
Organic real estate has shrunk
local search continues to present a big opportunity of relevant brands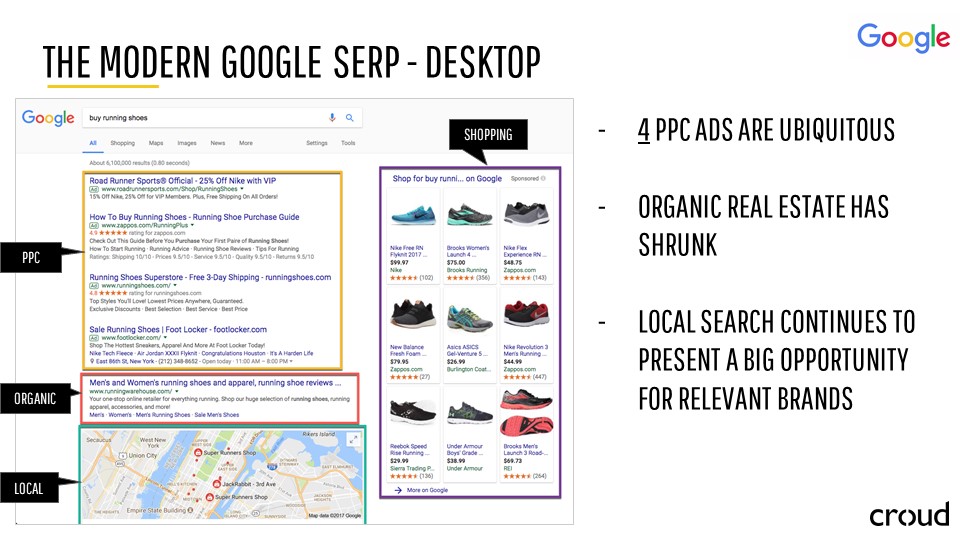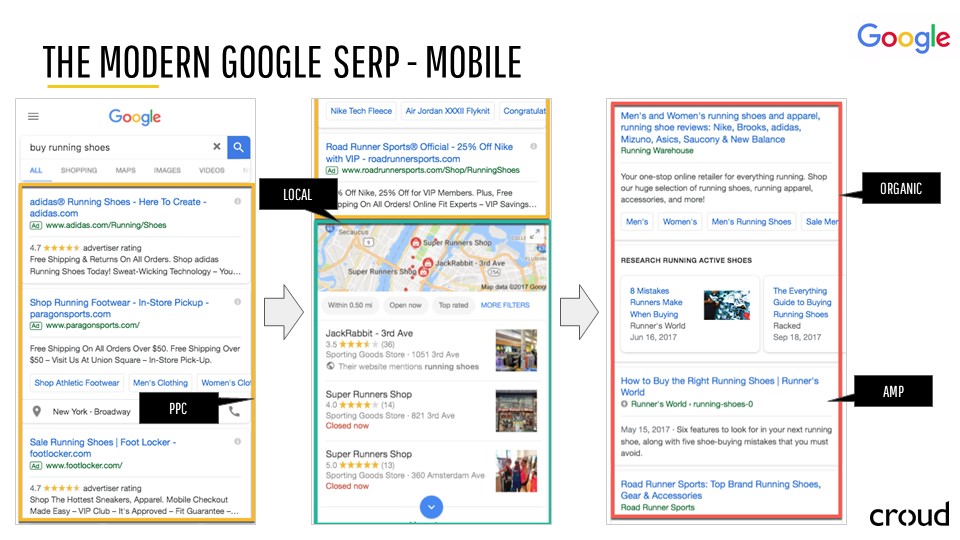 The Modern Google SERP – Mobile
The Modern Bing SERP – Desktop
4 PPC Ads are ubiquitous on Bing too
Bing's desktop ads are arguably more aggressive than Google's (they didn't relinquish side ads)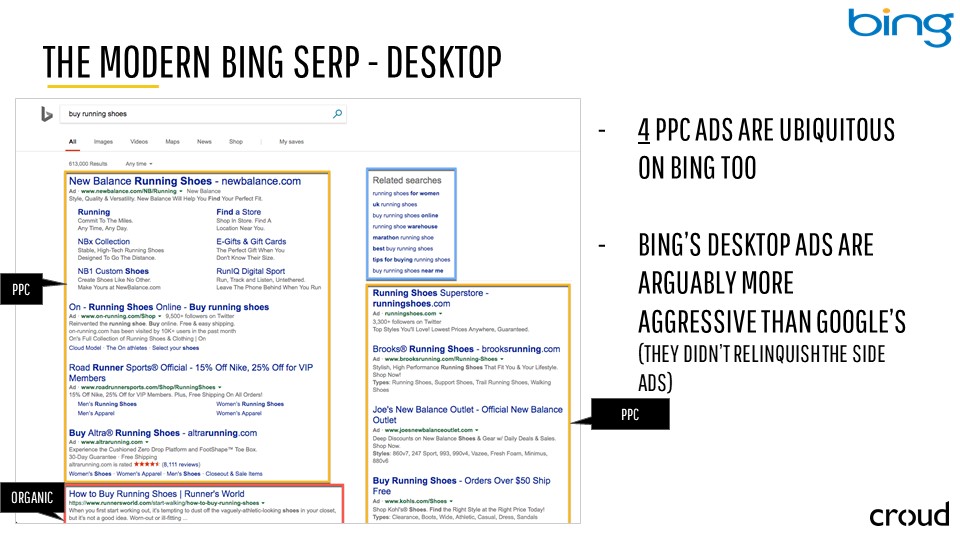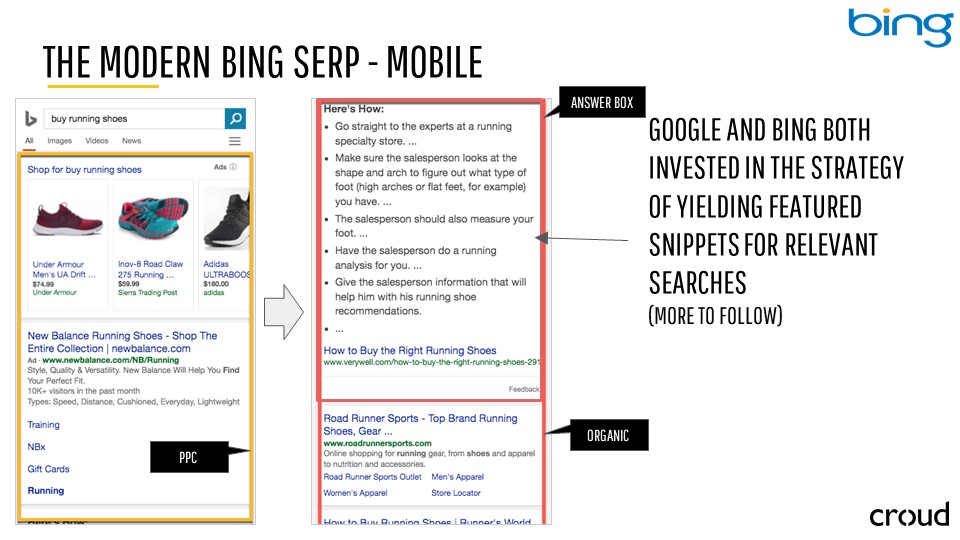 The Modern Bing SERP – Mobile
Google and Bing both invested in the strategy of yielding featured snippets for relevant searches (more to follow)
Question!
By a show of hands, how many people here would say they:
Frequently click on PPC results
Sometimes click on PPC results
Never click on PPC results
Don't thin about it
Mobile Searches Continue to grow
U.S. local mobile search vs. Desktop search
Google Moving to Mobile first indexing
testing has begun
a single index, mobile focused
bottom line for marketers; it's mobile metrics that will factor SEO:

site speed
content
links
etc.
More Mobile = Change in Search Trends
Examples of growing "best" searches on mobile
Best umbrellas (over 140%)
Best travel accessories (over 110%)
Best deodorants (over 60%)
Mobile searches for "best" have grown over 80% in the past 2 years
Google SERP Changes – How we used to search
old way to search Google
Enter your query
Click on the website relevant to your search
Browse that website and fulfill your request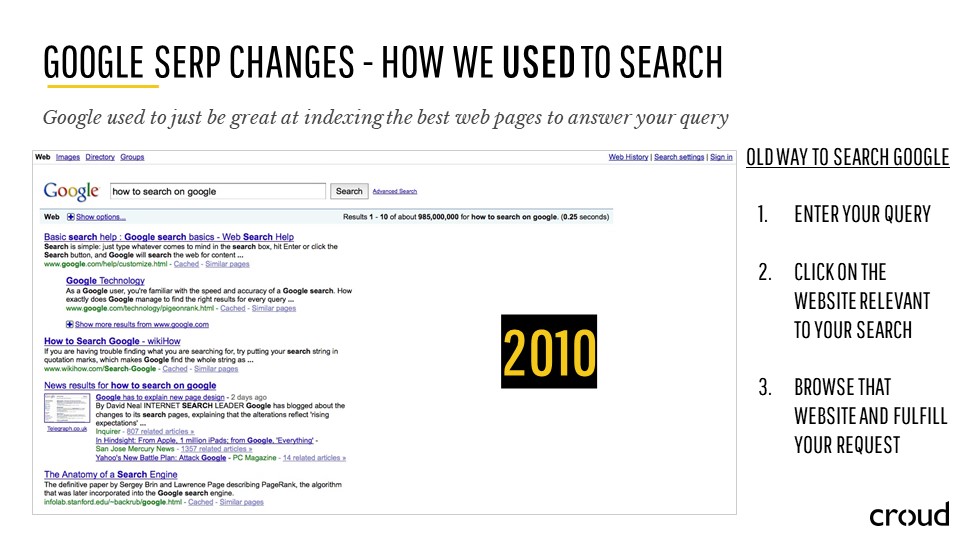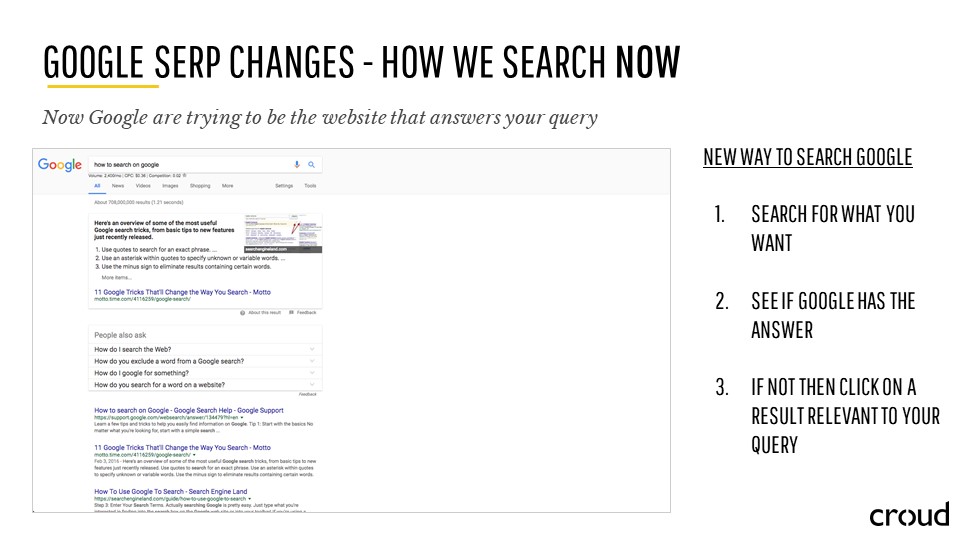 Google SERP Changes – How we search NOW
New way to search Google
Search for what you want
See if Google has the answer
If not then click on a result relevant to your query
Mobile SERP Changes on Google 
Google is ganging our perception of their model so we feel more at ease in it's ecosystem
Mobile SERP Changes on Google
And now they answer our queries themselves (or with your data) more and more frequently
Keeping Users on Google.com – Featured Snippets
By leveraging content from your website in the form of featured snippets, Google offers a preview called featured snippet
Featured Snippet growth over time
Why is Google doing this?
Voice search suits the "question and answer" or "command" format
To facilitate answers via Google home you need snippets of answers across a plethora of categories
Keeping Users on Google.com – Google AMP
By getting publishers to allow Google to host their content in AMP format Google can keep you longer on Google's properties and control your interaction with it's web properties better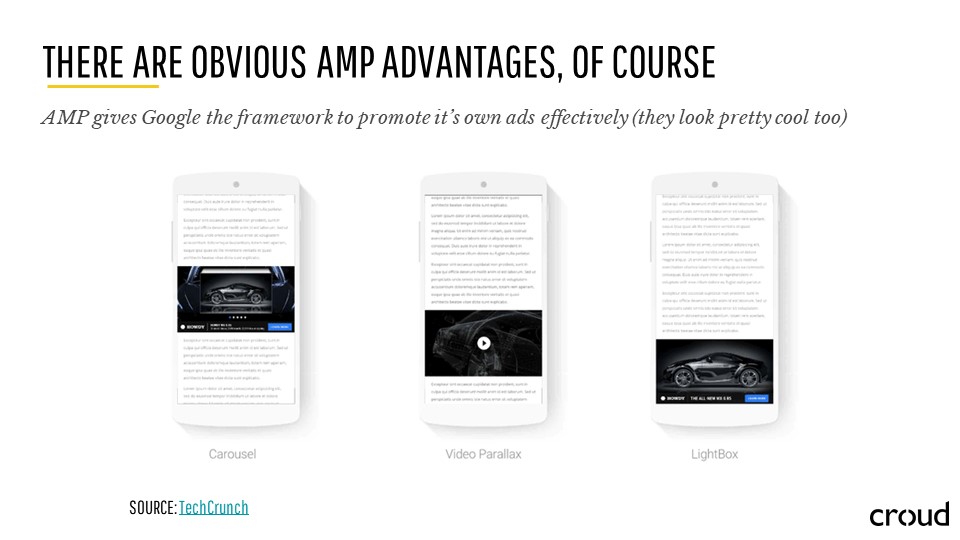 There are obvious AMP advantages, of course
AMP gives Google the framework to promote it's own ads effectively (they look pretty cool too)
Why Google's Desire for Control?
There's a constant power struggle for consumer attention
More mobile searches
Lot's of affluent people use iPhones
Apple wants to diminish Google's ad business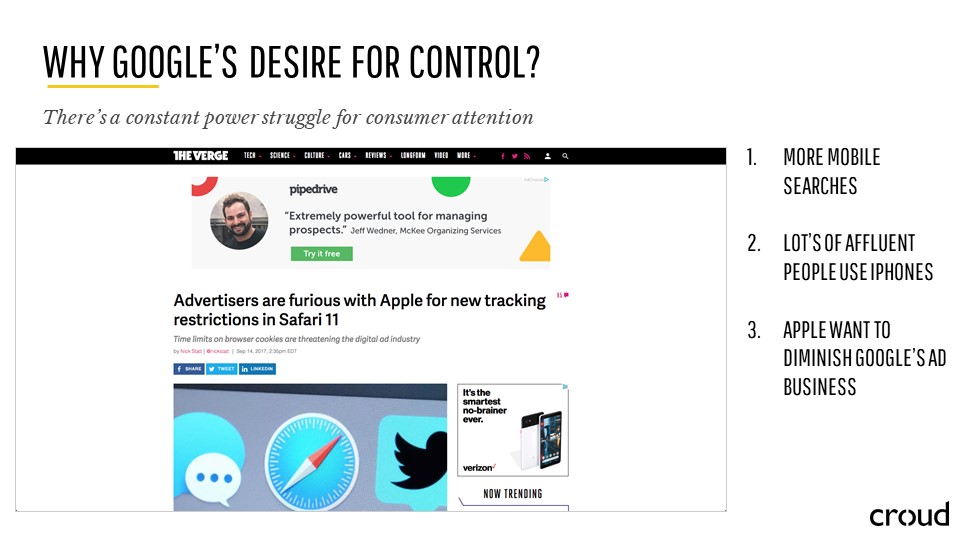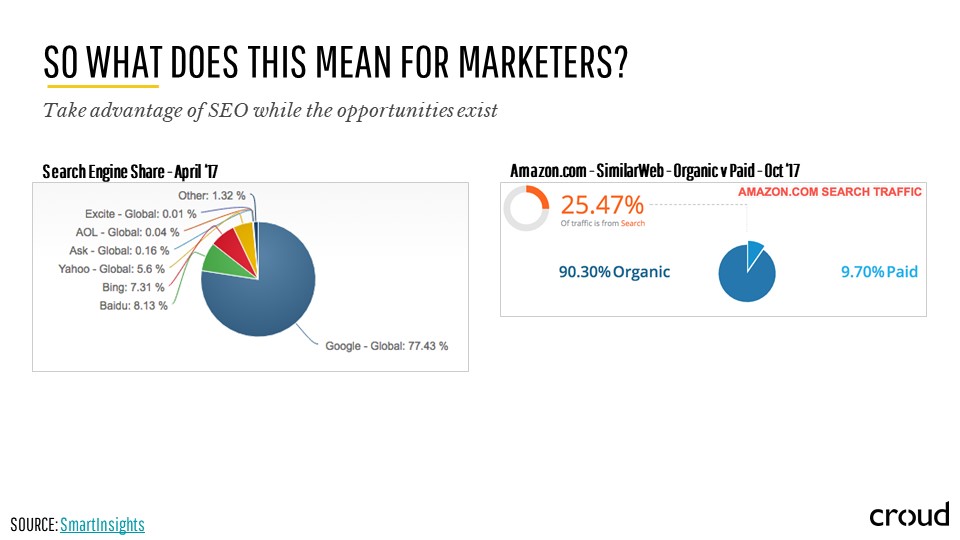 So what does this mean for marketers?
Take advantage of SEO while the opportunities exist
Shift to Paid – Integrated PPC & SEO is critical
More PLA placments and ads resulting in more ad spend for ecommerce
Embrace Google's changes
Embrace AMP / Featured Snippets | Optimize for voice search / mobile users
invest time and resources into building conversion friendly AMP pages
optimize your content for featured snippets
optimize for voice search with question and answer style support content
Optimize for mobile users with "impartial" comparison insights on mobile friendly pages
Become the digital master of your industry
Content continues to be of pivotal importance for any brand who can afford to produce it
"44% of people go directly to Amazon to start their product searches, compared to 34% who use search engines like Google, Bing, and Yahoo to search for products" (MarketingLand, 2015)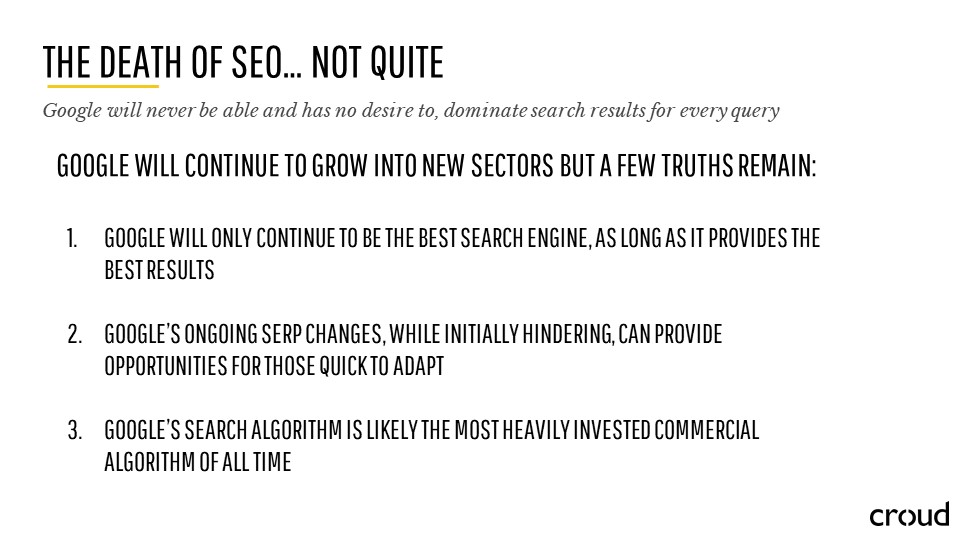 The Death of SEO… not quite
Google will never be able and has no desire to dominate search results for every query
Google will continue to grow into new sectors but a few truths remain:
Google will only continue to be the best search engine, as long as it provides the best results
Google's ongoing SERP changes, while initially hindering, can provide opportunities for those quick to adapt
Google's search algorithm is likely the most heavily invested commercial algorithm of all time
What's needed from an SEO agency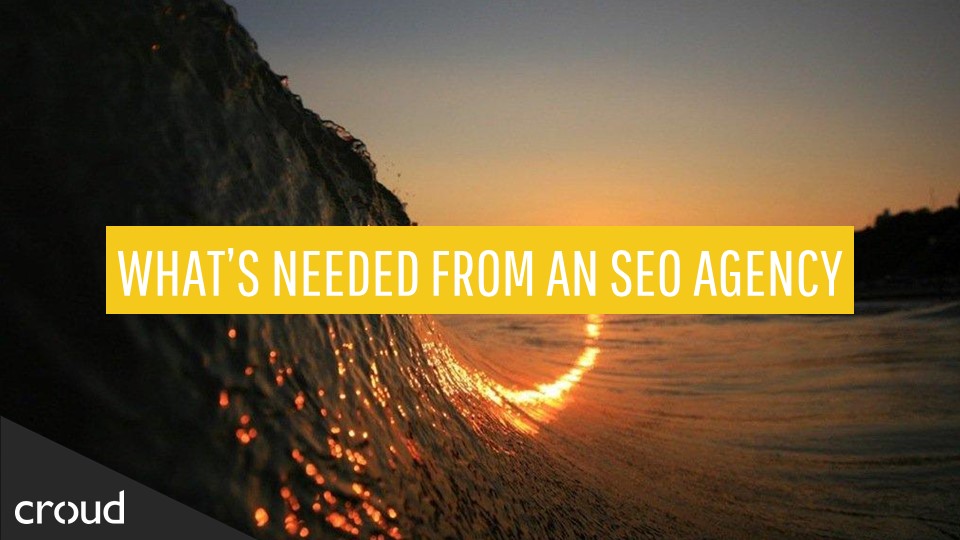 Increased demand on SEO professionals
technical SEO
content marketing
reputation management
defensive SEO
link building
influencer outreach
digital PR
social media optimization
server log file analysis
site crawls
mobile optimization
AMP optimization
Featured snippets
voice search optimization
app store optimization
HTML & CSS
in house training
reporting and analytics
More Specialisms = Steeper Learning Curve
This results in:
Shallower talent pool
less time to invest heavily in single discipline
less visibility on the entire SEO marketing ecosystem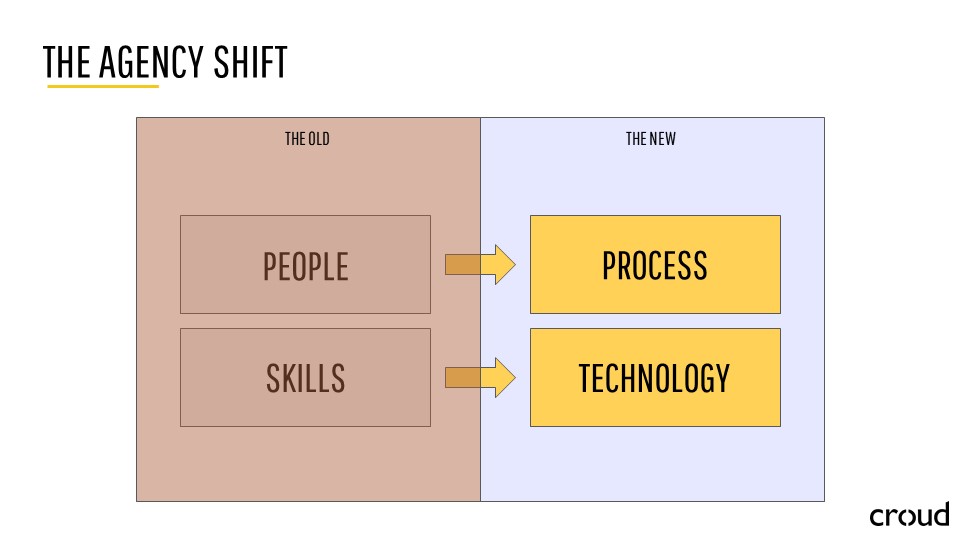 The agency shift
The Old:
The New:
What is the role of an SEO agency to clients?
An SEO agency should be able to show you the full scope of opportunity in your industry, using search volumes, grouped by keywords
An SEO agency should maximize content and development resources output through process and technology, based on the level of investment
and SEO agency should do all of this using a combination of  best practice and SEO testing in a bid to constantly better understand search algorithms
an SEO agency should be able to  report and feedback on the results of most SEO initiatives, creating a services of case studies for both themselves and for the client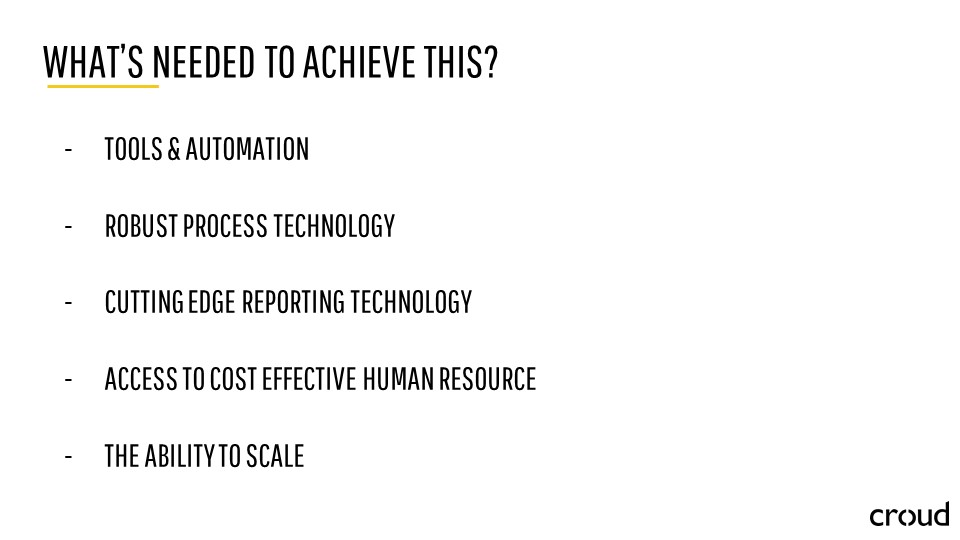 What's needed to achieve this?
Tools & Automation
Robust process technology
Cutting edge reporting technology
Access to cost effective human resource
the ability scale
How to address SEO strategically?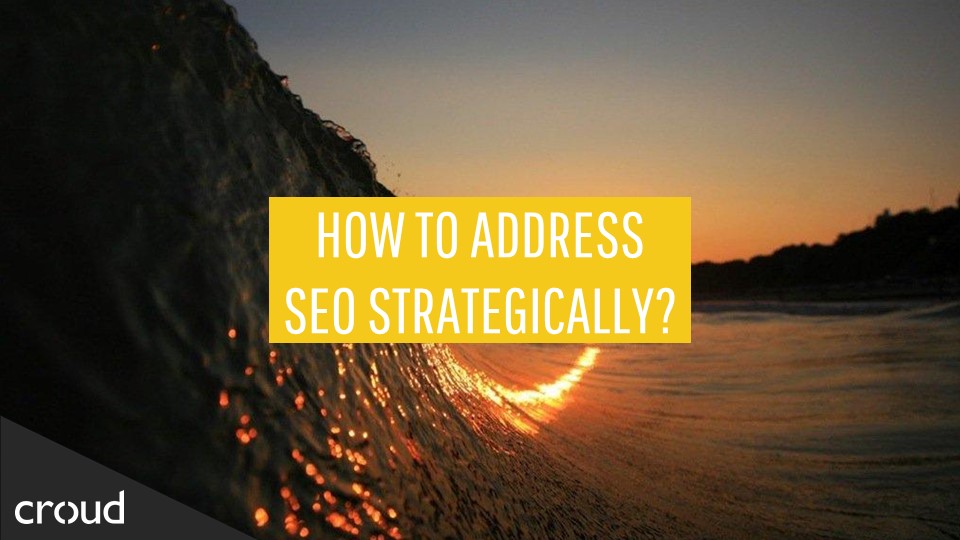 Understanding and Tracking your Keyword Universe
Great tools include:
SEMrush, SEOmonitor
conductor
Brightedge
searchMetrics
Automating the unearthing of key opportunities
Great tools include:
keepcrawl
Sitebulb
Screemingfrog
botify
Building a roadmap for every tactic & opportunity
Explicit Deliverables & Fluid Communication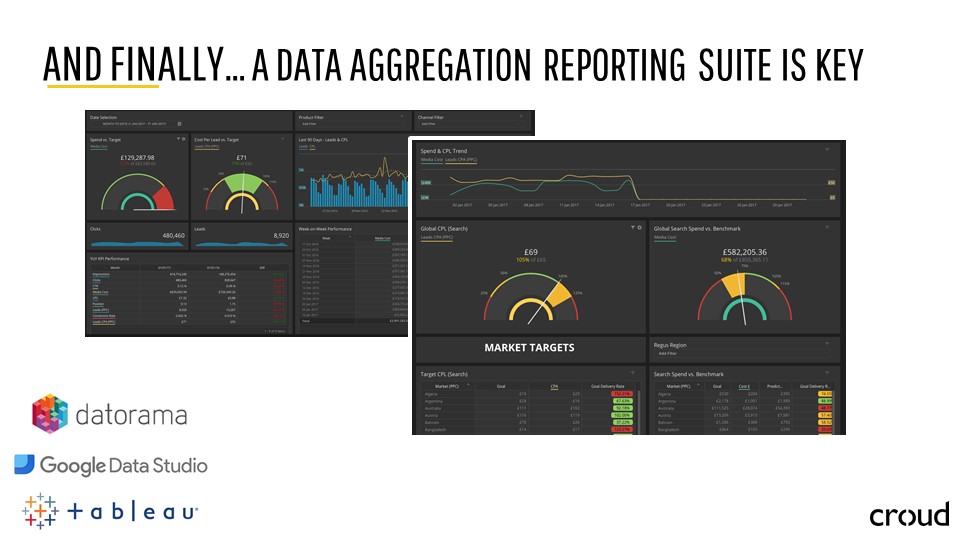 And finally… a data aggregation reporting suite is key
Great tools include:
datorama
Google Data Studio
tableau