METRO TORONTO CONVENTION CENTRE
222 Bremner Blvd, Toronto, ON M5V 3L9, Canada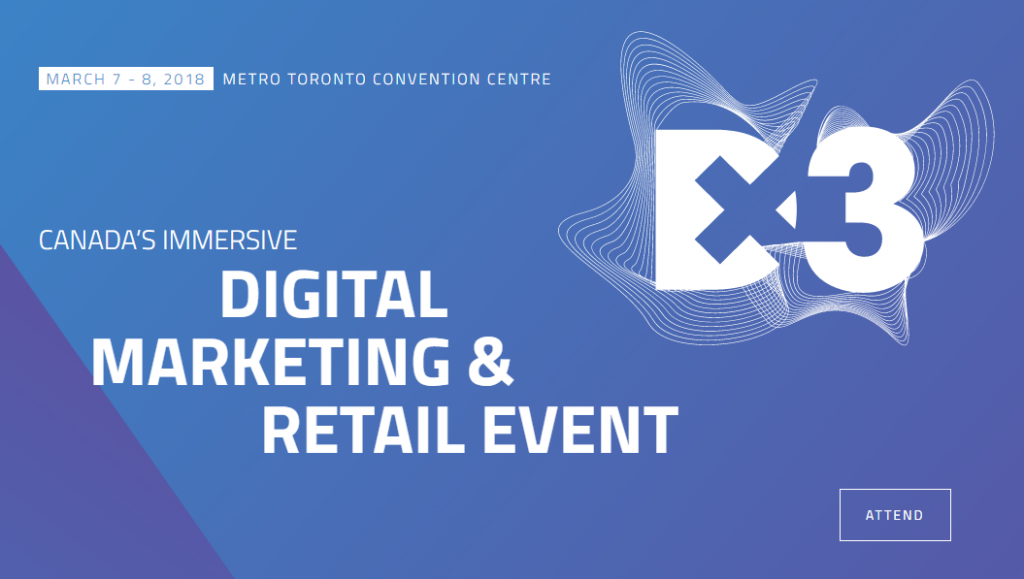 DX3 IS CANADA'S LARGEST CONFERENCE FOR MARKETERS
Through interactive installations and provocative content, Dx3 is your one-stop-shop for taking advantage of everything digital marketing has to offer.
WHERE?
Metro Toronto Convention Centre, North Building, Hall A
255 Front Street West
Toronto, ON M5V 2W6
WHEN?
DAY 1: WEDNESDAY, MARCH 7, 2018
Registration: 8:00 AM
Opening Keynote: 8:30 AM
Show Floor: 9:20 AM – 4:30 PM
DAY 2: THURSDAY, MARCH 8, 2018
Registration: 8:00 AM
Opening Keynote: 8:30 AM
Show Floor: 9:20 AM – 4:30 PM
TAKE ADVANTAGE OF EVERYTHING DIGITAL MARKETING HAS TO OFFER!
Networking
Meet thousands of marketing, retail, and tech professionals.
CAFE + HAPPY HOUR + PARTIES
Connect with industry peers, build career changing relationships, and expand your network at Dx3.
Canada's marketing professionals and creatives meet once a year at Dx3 to make new connections. We've got several ways for you to meet, including a networking cafe on the show floor, a happy hour at the end of day 1, and an after party to bond over a beverage.
Learn from the best and brightest.
(5 SESSIONS | 45 – 60 MINS EACH)
Keynotes are inspirational anchors to the rest of the content program. You'll hear from senior folks at some of the most well-known, innovative companies and learn how they are pushing the boundaries of marketing, retail, and tech.
(15 SESSIONS | 45 MINS EACH)
These are learning opportunities to help you dive deep into a particular area of technology, marketing, or retail. Presented by subject matter experts, the plan is to walk away with tangible learnings and next steps for your own business or role.
(13 SESSIONS | 45 MINS EACH)
New to Dx3 this year, you'll be learning how-to's on some of the hottest topics. These are smaller, more intimate sessions, so be sure interact with your fellow attendees and the presenters to get the most out of them!
(18 SESSIONS | 20 MINS EACH)
Many of our exhibitors and sponsors offer great tech to help overcome the challenges of today's marketer. These short talks will showcase how these products or services work, and whether or not they're right for your business.
(5 SESSIONS | 30 MINS EACH)
New to Dx3 this year, we'll be offering our attendees the opportunity to ask more questions. Take this time to ask some of the tough questions that are affecting your business or role, and hear what advice these experts have to offer!
Interactive Installations
Hands-on experience with the latest tech.
ACTIVATIONS
These builds are immersive experiences that give you a look at the latest in marketing and retail tech. These builds display hardware such as the latest in in-store tech hardware, applications of VR/AR, payment solutions, and integrations of robotics and AI in the store. Click here to check out some of the activation we've done in the past!
AMBER MAC TECH SPOTLIGHT
Since 2012, tech journalist and TV personality Amber Mac has been interviewing senior management of fast-moving startups at Dx3 who are making waves in their respective industries. Presented by EY, Amber Mac's Tech Spotlight takes place on the show floor, and attendees are encouraged to come by and watch the interviews live as they are happening to gain new insights on emerging technology, or catch them later on Facebook!
LABS
Over the last few years, Dx3 has created different forms of 'shopping experiments'. All attendees are welcome to participate and are led through some sort of simulated experience (such as shopping for a car or a computer). During this simulation we collect data, analyze it, and produce a report with the findings that gets sent back to you. Click here to check out some of the lab experiences we've run in the past.
Our best year yet
Dx3 2017 was all about the consumer experience. Whether it was helping them discover new products, understanding what truly drives their loyalty, or creating new experiences for them using the latest developments in tech – their experience was at the center of the conversation.
Between the two inspiring keynote sessions, 60+ speakers, interactive labs, and 100 exhibitors, there was so much to do and see at Dx3. The event in 2017 was so well received that 97% of those surveyed said that they would recommend Dx3 to a friend or colleague. To see all of the great stuff that happened at Dx3 2017, check out the video below!